Imagine if somebody said that only one height exists at once—whichever elevation you happen to be in at the moment, only things at that elevation really exist.  The moles in the ground are can be asserted to be "below", but that just means that they used to exist when you were in your basement.  And the birds in the trees are "above" you, but that just means that they will exist after you indulge your habit of climbing to the attic.
(Unlike the case of time, I can go either up or down, but who cares?  Time may flow like a river, but space flies like a bumblebee, wobbling around in random directions.)
This is clearly uncommonly silly, and there are several retorts one might make to it.  If the ground beneath us doesn't exist, then what on earth is holding us up and supporting us?
Also, there is no such thing as a perfectly flat human being.  Your brain occupies several different planes of elevation at once, and there is no good reason to think that any horizontal slice of your brain would be capable of thinking, independently of all the other slices.
Another possible retort would be to critique the language, and say that there is really no meaning to it.  If I say that the birds will exist after I go into the attic, I am implicitly and illegitimately assuming that my attic exists, and that I can therefore go up to it.  But if I really took my philosophy completely seriously, I would have to believe that the attic doesn't exist either.  To say that up exists upwards is a circular definition, which can hardly console us if things that are up do not exist in the first place.
But if none of these "philosophical" arguments are persuasive, I can always crack out the "Argument from Geophysics".  Our most advanced scientific theories suggest that the world is in fact round.  It turns out that up and down are relative concepts, you see.  In Australia, they fall in a different direction than we do.  What they call down is different from what we call down.  The actual laws of physics are rotationally symmetric.  There is a symmetry which mixes up the up-down axis with the right-left axis and the forwards-backwards axis.  We can call "down" the direction which points to the Earth, but the earth is a contingent object which might not have existed.  Out in space, there is no reason to adopt a geocentric coordinate system.
And certainly, if we start doing theology, it would be presumptuous to think that the God who created the whole universe, all the stars and galaxies, is confined to existing at some particular elevation.  Whatever limitations we may ascribe to created beings, we should not ascribe them to the unlimited Creator, who made them all out of nothing.
(Some ideas, e.g. the idea that God is a really old man with a long white beard who lives in the sky, really do become ridiculous when you consider the size and proportions of the Universe as discovered by modern Science.  But garden variety Internet Atheists are always trying to manufacture this feeling artificially, in situations where it's a non sequitur.  If you can't tell the difference between Classical Theism and belief in a sky-fairy or an invisible garage dragon, that shows your intellectual limitations, not mine.)
This analogy summarizes the previous posts in this series, only I was talking about Time instead of Height:
God and Time I: Metaphysics
God and Time II: Special Relativity
It turns out that there is also a "rotational symmetry" so to speak (called a Lorentz boost) which mixes Space and Time.  It works a little bit differently from a regular rotation, since it involves rotating along hyperbolas instead of circles.  Mathematically, it's just a matter of throwing in a minus sign.  A result of this is that there is a lightcone which is unaffected by the symmetry transformation.  Some pairs of points are timelike separated (one point can affect the other) and others are spacelike separated (neither can affect the other), but there is no such thing any more as simultaneity.  From the perspective of somebody who is stationary, time goes slower for somebody who is moving; this is called "time dilation".
But in General Relativity, things get more wild, since space and time can themselves be affected by the behavior of matter.  Thus the distances and durations become a function of where and when you are.  Time runs slightly slower near the earth than it does in outer space.  (Believe it or not, this is why things fall down.  An object in free-fall always takes the path which maximizes the amount of time to get from point A to point B.  This is a compromise between SR and GR time dilation effects.)
In Special Relativity, space and time are a unity, but they have a fixed geometry.  The distances and the times are the same regardless of what matter does.  They are unaffected, and therefore they might possibly (by a Materialist, not by a Classical Theist) be taken to be a fundamental, necessary, and immutable feature of reality, which limits other entities but is not itself affected by them.
In General Relativity, by contrast, the spacetime metric

not only affects matter, it is in turn affected by matter.  This implies that the causal structure  (which tells you which points can affect which other points by signals) is itself causally affected by stuff.  So we learn that the particular geometry of spacetime is a contingent, mutable feature of reality.
From a philosophical point of view, the Absolute Spacetime of Newton (or Special Relativity) was never very satisfying.  Even if it is Absolute, an empty Spacetime can hardly itself be the source of all that is real.  Thus there must also be some other principles besides those of space and time, threatening an unparsimonius proliferation of fixed principles.  It has seemingly arbitrary features, and yet if it is really immutable and necessary it is difficult to explain it in terms of other things, other than just God's will.  Many philosophers such as St. Leibnitz and Mach rejected absolute spacetime, and tried to reduce it to the status of merely relative data relating various material objects.  Newton and his followers, on the other hand, tried to identify Space and Time with the necessary attributes of God, his Immensity and Eternity, but this doesn't work very well theologically.
Einstein was influenced by Mach in the creation of GR, but it doesn't really meet Mach's original aspirations since spacetime is still a reality independent of matter in his theory.  Mach would have said that spacetime has no independent reality; that it is just a way of keeping track of the relationships between material objects.  (He thought that the water would run to the sides of a rotating bucket only because the bucket was rotating compared to the distant stars).  But in GR, it is possible to have a geometry apart from any matter, e.g. empty Minkowski space, or a spacetime with gravitational waves.
There is indeed a sense in which the curved spacetime of GR is relational—there is no absolute fixed coordinate system to measure everything else by.  Thus it is only meaningful to  measure the locations and times and velocities of objects relative to other objects, indeed unlike SR we must even specify a specific path through spacetime between the two objects, in order to meaningfully compare them.  But, even though GR is relational, the spacetime metric

is itself one of the entities which may be used to construct relational observables.
Thus I would say that Spacetime in GR is neither absolute in the Newtonian sense (more fundamental than matter), nor relative in the Leibnitz/Machian sense (less fundamental than matter), but rather has the same status as matter.  It is real in the same concrete, tangible way that a rock or a tree is real.  It is one of several different fields in Nature, all with equal status, all capable of affecting and being affected.
As some physicist I can't track down right now (Carlo Rovelli?) once said, if an intense gravity wave passed by and destroyed your house, you would think of it as being just as real as any other kind of matter.
Now, if Spacetime (and therefore Time) is real in the same sense that a rock or a tree are real, that meas that it is also a contingent, created being.  Time is just one of the many things that God has created.  But the Creator, blessed be he, is not dependent on rocks or trees for his existence.  He is not measured or parcelled out by units of space, therefore he is also not measured by time.  Time is just something he created, which need not have existed.  Before they were created, and afterwards, he exists just the same as he ever was.  He is the Absolute, the Fundamental Reality which everything else depends on, but which does not itself depend on anything.  God's divine attributes (his necessity, eternity, and unity) imply that he cannot change with time, nor can he consist of distinct parts at each time.  He is the Alpha and the Omega, the Beginning and the End!
But I digress, since I was planning to discuss the Scriptures in the next post.  This one is supposed to be about how GR makes it even harder to say that God is in Time.  I've already talked about the contingency of the spacetime geometry.  Now let's talk about the arbitrariness of selecting what you mean by a single moment of time.
In SR, there is still a preferred notion of "simultaneity" if you pick a particular reference frame.  I drew a picture of that in the previous post: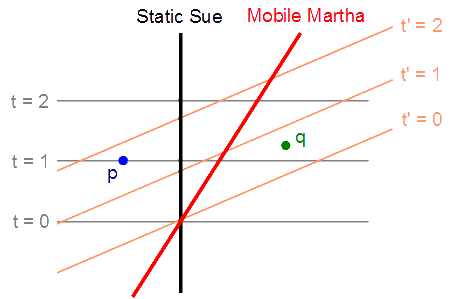 Here Sue and Martha don't agree on whether

or

came first.  But maybe Sue is objectively right and Martha objectively wrong?  Somebody could still argue that there is a special inertial frame of reference with respect to which God happens to exist.  In other words, God has no position, and yet he has a velocity?  He is not an idol, a piece of wood or stone carved into an anthropomorphic form.  Why should he be limited in this way.
But in GR, spacetime is curved, and there are no inertial coordinate systems defined on the whole spacetime.  You can divide Spacetime into Space and Time in any way you like, using wiggly surfaces (although one might want to restrict to surfaces which are everywhere spacelike).  For example, the relationship between 2 coordinate systems could look like this:

In GR is not always any particular connection between a given coordinate system and a given observer, so I have not drawn Sue and Martha in this picture, but I have still drawn the spacelike separated points

and

which are in an ambiguous time relation.  (Since spacetime is 4 dimensional, the time slices I've drawn actually represent 3 dimensional surfaces.)
Of course, nothing stops you from choosing a funky coordinate system in Newtonian mechanics or SR either.  For example, it is often convenient to choose a rotating frame of reference to follow a rotating body such as the Earth.  Or a coordinate system which tracks an accelerating observer.  (Many pop descriptions of GR give the false impression that you need GR to describe accelerating coordinate systems; this is obviously false since objects can accelerate even in Newtonian mechanics, and nobody can prevent you to choosing coordinates however you like no matter what the correct theory of physics is.)
The difference in GR is that none of the coordinate choices are particularly nice or special.  It looks from the picture above like the gray coordinate system is nicer than the apricot one, but that's just because your computer screen is flat.  On a typical curved spacetime, all time slices are bent in one place or another.  Thus, instead of having a 3 parameter family of "nice" time slices, we have an infinite dimensional family.  (The details depend on which particular curved spacetime we have.)
Do we really want to say that God's experience of time depends on making an arbitrary choice about how to respond to the gravitational field of each and every star?  An choice which, from the perspective of physics, is a completely meaningless choice of coordinate system?  God's perspective on the universe should not be more provincial and limited than the perspective of a mere physicist such as myself.  The Glory of Israel does not change, so why does he need a time coordinate?
Now it is true that on some specially nice spacetimes, there is a naturally nice choice of time coordinate.  For example in an FRW expanding universe, there is a "cosmic time" coordinate which tracks the overall size (the "redshift factor") of the universe.  Some philosophers, such as St. William Lane Craig, have suggested that God's "time" might simply be this "cosmic time".
But this is a misunderstanding of the physics of our universe.  The FRW metric is a just an approximation to reality.  It describes a universe which is completely uniform (the same in everywhere) and isotropic (the same in every direction).  This is a very good approximation on large distance scales (billions of light years), but on shorter distance scales (e.g. the solar system, or the milky way, or your living room) you may have noticed that matter is not distributed uniformly.  It comes in clumps, and each of these clumps has a gravitational field which distorts the spacetime metric, making the FRW metric no longer correct.  On a lumpy spacetime, the notion of "cosmic time" is not well-defined.
With sufficient effort, one might be able to define a different time coordinate which is well defined.  Perhaps the maximum proper time since the Big Bang, or something.  But reformulating GR in a way that makes special reference to such quantities spoils the beauty of Einstein's theory.  It is ugly.  As for a blind and lame theory like that, I hate it in my soul.  Why should our physical theory describing gravitation get uglier when we describe how it relates to God?
The closest thing I know about to an elegant reformulation of GR with a special time coordinate is called "shape dynamics".  (I say know about, since I don't understand it).  Apparently this is equivalent to GR in a coordinate system where you pick your time slices to be CMC ("constant mean curvature") slices.  I won't explain that right now, except to say that the soap films in your bubble bath are also CMC surfaces.  But given a GR spacetime metric, there might be many possible choices of CMC slicings, or none.  So the equivalence to GR is not complete.
It is of course always possible that a new theory of physics (such as Hořava gravity) might reimpose something like absolute time.  But I wouldn't count on it.
I think this is a good illustration of the point I made in Models and Metaphysics:
But it seems to me that the correct view is in the middle, that Physics has some bearing on Metaphysics but it doesn't fully determine it.
There are always going to be ways to force physics into being compatible with an A-theory metaphysics of time, but it doesn't look elegant or pretty.  The B-theory seems to fit much more naturally.  Physics can't usually rule out metaphysical ideas, but it can make them look a lot clunkier.
But in this case, physics isn't telling us anything we couldn't have learned from good philosophical theology.  Or from scriptural exegesis—which will be the subject of my next post in this series.