Despite what people seem to think, there are very few controversies in Theology where there is decisive evidence coming from Physics (leaving aside some real doozies such as Young Earth Creationism).  But the question of whether God is in Time is one of them.
In the previous post I argued that God must perceive Time as it really is.  But our conception of Time has been modified radically as a result of Einstein's theories of Relativity.  It starts out with Special Relativity, and becomes even more extreme with General Relativity.
The first thing to notice is that our usual division of time into Past, Present, and Future—which I tacitly accepted when discussing the metaphysical problems of the A-theory (a.k.a. Presentist) idea that only the Present really exists—seems to be totally wrong.  Instead you have to think about spacetime, and it is unclear what we even mean by referring to the "Present".  As I said in one of my earliest posts:
We're used to dividing up time into three parts relative to ourselves: past, present, and future. The present is just an infinitesimal sliver, so in a sense this division is into two parts: points to the past have compared to you, while points to the future have compared to you.

However, special relativity tells us you have to chop up spacetime in a more complicated way.  Bearing in mind that you each live in a particular place as well as a particular time, you can chop up spacetime into three different regions.  The future is points that are timelike separated to you and have ; these are the points of spacetime that you can affect.  The past is points that are timelike but have ; these are the points that can affect you.  Then there is elsewhere, the points that are spacelike separated.  These points can neither affect, nor be affected, by each other.  The three regions are separated by the "light cone", which consists of the points that you could send a lightray to (or from).  I'm too lazy to draw a picture right now, but you can see a pretty good explanation here
If we treat time as a metaphysically fundamental quality, and say that things at the present moment of time really exist, really we are saying that anything which is simultaneous to my present experience exists.  But the concept of "simultaneous" is rendered problematic in Special Relativity.
That is because there exists a symmetry of spacetime, called a Lorentz boost, which mixes up the time and space coordinates.  (The Lorentz boost corresponds to changing the speed of the "reference frame" in which you are viewing the system.  You can always transform to a frame in which a given object's center of mass is at rest.)
Here is an spacetime diagram of two frames of reference, one in which "Static Sue" is at rest, and the other in which "Mobile Martha" is at rest (despite their names, there's no actual objective fact about which one of them is moving):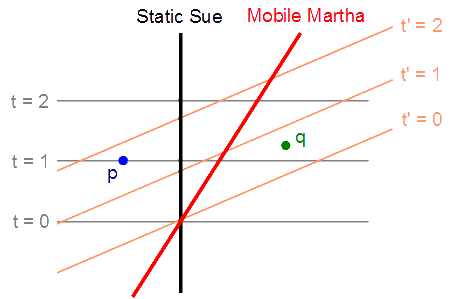 Here the vertical axis is time and the horizontal axis is one of the dimensions of space.  The horizontal grey lines indicate Sue's notion of simultaneity, and the diagonal peach lines represent Martha's notion of simultaneity.  Their relative velocity is about half the speed of light, which would travel at approximately 45° had I drawn any light in this picture (I chose not to draw any light because, sadly, both ladies are blind).  Sue and Martha's reference frames do not agree about which of the two events

or

occurred first.
In particular, as long as two points

and

are spacelike separated, by acting with this symmetry you can always choose for their time coordinates to have any of the 3 temporal relations:

,

, or

.  Since nothing can travel faster than light, no causal signals can go between the points

or

anyway, so the order doesn't really matter.
(Nor can we say that if

exists, everything spacelike separated to

exists simultaneously.  For "simultaneous" is supposed to be a transitive relation.  If

is simultaneous with

, and

is simultaneous with

, then

and

should also coexist simultaneously.  But in Special Relativity every pair of spacetime points share a common point they are both spacelike to.  This idea would thus make all spacetime points simultaneous.)
And yet, for some reason, in the very same 20th century in which Physics got rid of the idea of the Present moment, some revisionist theologians decided to propose a more limited, anthropomorphic deity who changes with time, or who doesn't know the future.  Either because they wrongly believe divine foreknowledge conflicts with free will, or because they believe that the Bible teaches this, or because they subscribe to more radical process theology ideas...
But if:
1) God is omnipresent (so he does not pick out a particular point in space), and
2) The Lorentz boost is a valid symmetry of reality, then inevitably:
3) God is omnitemporal.
There are only a few possible rebuttals.  One is to hope that relativity turns out to be wrong in this respect.  There are a few very speculative quantum gravity ideas about this (e.g. Hořava gravity), but none of them are extremely promising.
A second is to say that God just breaks this symmetry, he "picks out a particular reference frame" and that's just that.  Well, in addition to being ugly to theoretical physicists such as me, it seems bizarre that God, who transcends the universe and created it, would need to break a law of nature of that he created just in order to relate to the universe.  (It's not like not we're talking about a miracle here, we're just talking about the way in which God coexists with the universe at every moment.) God relates to the universe by creating it as it is, and by knowing it as it is—which means that there should be no reason to break any symmetries in describing how God relates to the universe, if our best model of how the universe is preserves those symmetries.
A third approach might be to bite the bullet and say that God exists in space as well as time.  Maybe there is one version of God (or should I say "a god"?) existing at each spacetime point, and each god knows only the things in the past lightcone of that point.  So God can't send signals faster than light or know what's going on in the Andromeda Galaxy right now (for any reference frame's definition of "right now").  But what a needless limitation!  I could throw out a prooftext here, but I'm supposed to be saving the Scriptures for the next post.  Instead I will confine myself to pointing out that this view has serious issues concerning the divine unity as well as omniscience and omnipotence.  Is it really necessary for the Blessed Creator to chop himself up into pieces, just in order to create the spacetime continuum?  This seems to tend more towards a Pantheistic view in which the God creates the universe out of his body, then a Monotheistic view in which he creates freely like a novelist inventing a story.
One reader (who subscribes to the "Open Theism" view that God does not know the future) suggests that perhaps God exists in all reference frames.  But this makes no sense to me.  We cannot say that God exists in all reference frames simultaneously, since we need to first pick a reference frame to say what we mean by simultaneous!  Indeed, this view does not really give a well defined answer to the question of what knowledge God has access to at any given moment.  If I, sitting in a particular place and time, pray to God to intervene at some other point, which is spacelike separated to me, can he base his answer on things taking place in the Andromeda Galaxy, or not?  This model would imply that there are infinitely many versions of God at a single spacetime point, each with different knowledge and powers.  That's even more complicated than the previous supposal.  Which version of God gets to decide what happens at that point, and why can't they just all communicate with each other?  This view seems more problematic than any of the others.
So, to conclude, Special Relativity seems to strongly suggest that if God has no definite position in Space, he must also not be in Time.  Now we have Spacetime, and we ought to be able to translate what we say about God into that language somehow, unless we think that our theological expressions should be immune to progress in the Sciences.  But here it is traditional theology, not revisionist modern theology, which fits the data better.
(Although this raises certain questions about other theological entities, such as angels or heaven, which are often conceived of as being in time, but not space.  Or at least not in our space... but of course we don't really know much about what these entities are really like.  Although God transcends all understanding, in certain respects we know a lot less about these created entities than we know about God, because (a) there are no metaphysical arguments that they have to exist, and (b) we interact with them less frequently.)
I've decided to save General Relativity and other physics considerations for another post.
Next: General Relativity