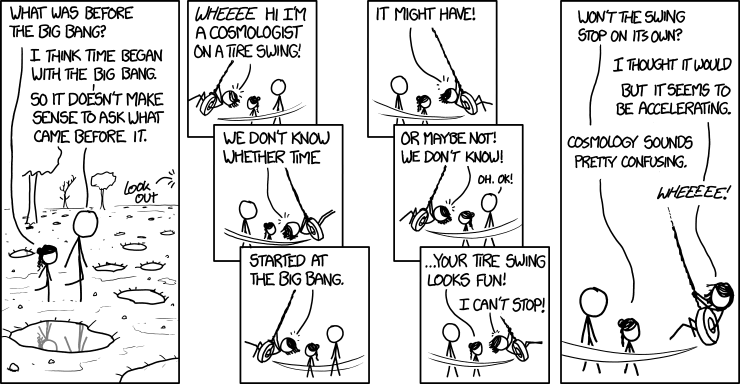 from http://www.xkcd.com/1352/.
We have now come to the end of my series about whether or not the universe had a beginning.  This is part of a longer series dissecting the debate between St. William Lane Craig and Sean Carroll.  I started out with some general reflections on the debate:
Thoughts on the Carroll-Craig Debate
God of the Gaps  (see also: Gaps at the Dinner Table)
Then I started talking specifically about possible evidence from physics for and against the universe having a beginning.  For ease of understanding I'm going to label each main new argument with FOR or AGAINST to define its main orientation, but the posts also deal with the various counterarguments (that's the tire swing going back and forth above...). I've provided an executive summary of each of these posts, so that you can easily see the main thrust of what I said.  Minus all the caveats, hedging, and detailed explanations my scientific training tends to encourage.
(I've heard that politicians hate talking to scientists because, like the Elves in Tolkien, we seldom give a straight answer to a question.  In scientific cultures, we show "sincerity" by discussing all the problems and caveats with our ideas, whereas in political circles this sounds like insincere waffling designed to please too many people...)
Did the Universe Begin? I: Big Bang Cosmology (FOR, as far as it goes...)
- the classical Big Bang Model predicts an initial singularity where time began
- tentative because quantum effects were important and invalidate our usual geometrical notions
- also tentative because we don't really know how inflation began
Did the Universe Begin? II: Singularity Theorems (FOR)
- classical General Relativity theorems by Hawking and Penrose
- assumptions of Hawking theorem invalid during inflationary epoch
- Penrose theorem says that if space is infinite, there was a beginning
- Penrose theorem invalid in quantum situations, but my work suggests that it might be extendable to quantum gravity, if horizons always obey the 2nd law of thermodynamics.
Did the Universe Begin? III: BGV Theorem (FOR)
- if the universe has a positive average expansion, then "nearly all" geodesics cannot be extended infinitely to the past
- implies that inflation had to have a beginning in time, at least in some places
- can evade theorem by a "bouncing" cosmology where the universe contracts and then expands
Did the Universe Begin? IV: Quantum Eternity Theorem (AGAINST)
- if the usual rules of QM hold at all times, you can calculate what the state would be at any time to the past or future.
- in realistic cosmologies the energy is probably either zero or undefined, making the theorem inapplicable.
Did the Universe Begin? V: The Ordinary Second Law (FOR)
- given reasonable assumptions, 2nd law of thermodynamics requires a beginning
- most plausible way to evade this is to postulate that the "arrow of time" reverses
- such models would have a "thermodynamic beginning" but no "geometrical beginning"
Did the Universe Begin? VI: The Generalized Second Law (FOR)
- second law of thermodynamics also seems to apply to cosmological horizons
- can be used like ordinary 2nd law to argue for beginning
- can also be used as singularity theorem (see II above)
- this closes certain loopholes, but if the universe is finite and the arrow of time reverses, a bounce may still be possible.
Did the Universe Begin? VII: More about Zero Energy
- a more technical explanation of why the energy of the universe can be zero
Did the Universe Begin? VIII: The No Boundary Proposal (AGAINST/FOR)
- a beautiful set of speculative ideas which unify the "laws of physics" with the "initial conditions", by providing a rule for what the state of the universe is.
- contrary to popular conceptions, the Hartle-Hawking proposal has no beginning in time
- the Vilenkin tunnelling proposal is similar in spirit but does have a beginning.
- unclear whether these proposals are well defined, and Hartle-Hawking appears to give wrong predictions.
Did the Universe Begin? IX: More about Imaginary Time
- a more technical explanation about the notion of imaginary time used by Hartle-Hawking
If you put all of the physics information together, the conclusion I would draw is that: We don't know for sure whether the Universe began, but to the extent that our present-day knowledge is an indicator, it probably did.  However, as Carroll correctly says, we can also construct models where it doesn't have a beginning.  Taking into account known results from geometry and thermodynamics, the most plausible such models are 1) spatially finite, and 2) have a reversal of the arrow of time (e.g. the Aguirre-Gratton model).
I also noted that models like AG still have a low entropy "initial condition" somewhere in the middle of time.  One might think that this type of "thermodynamic beginning" still calls out for some type of explanation.
Then I wrote a more theologically-oriented post about whether the Hartle-Hawking no boundary proposal leaves any room for God to have created the universe:
Fuzzing into Existence
- short answer: yes, if you think of God as a storyteller, not a mechanic.
I also discussed the possibility of Reparameterizing Time; is it even meaningful to ask whether time is infinite or finite when you can change coordinate systems?  In this post I also argued that the main theological question of whether the universe needs an explanation seems to me much the same whether the universe has finite or infinite time.
Now, let me make another observation about the tire swing.  Although the weight of the evidence is that the universe probably had some sort of beginning—and even more likely that there was some sort of low entropy "initial condition" even if geometrically time stretches past before that—this cannot be said to be certain.  There is always the possibility that new scientific data or methods could radically change our picture of the very, very early universe.  Similarly, while a finite past seems more in accordance with traditional Christian theology than an infinite past, there appears to be no strictly logical connection between the two ideas, once the act of Creation is viewed in a more timeless, "authorial" way.  Thus one might conceivably have a theist who thinks time is infinite, or an atheist who thinks time was finite.
Should the argument for God's existence really rest on such a slender foundation as the ultimate decision of physicists about Big Bang Cosmology?  Well, one thing is clear.  In ages past it didn't depend on it.  Obviously, Sts. Abraham and Sarah, David and Solomon, the prophets and apostles, and all the men and women who followed in their footsteps up through the 19th century, including eminent scientists such as St. Faraday and St. Maxwell: these cannot have believed in God because of the Big Bang Theory, because—guess what?—nobody knew about it yet!  What does the Bible say about these people?
Now faith is confidence in what we hope for and assurance about what we do not see.  This is what the ancients were commended for.  By faith we understand that the universe was formed at the word of God, so that what is seen was not made out of what was visible.  (Hebrews 11:1-3)
Our belief that God is the Creator does not depend on the vicissitudes of scientific progress, the swinging back and forth of the tire swing (or is it accelerating?)  It doesn't matter, because in this case we have a more certain source of knowledge than Science.
By faith!  The skeptic may scoff here, and say that faith is belief without evidence, but that is not the definition used in the passage above.  It says that faith is confidence about what we hope for, but do not see.  Unless we identify sight (conceived broadly as anything which can be directly experienced in terms of our 5+ senses) with evidence (things which allow us to conclude something about the world)—an identification which would incidentally also make Science impossible—the passage does not say that the ancients were commended for believing without evidence.  But the example of the biblical heroes does give some pointers about what type of evidence was relevant to them.
The ancients did not believe that God was the Creator because they had a detailed scientific theory about where it comes from.  (Indeed, if we take our minds off Genesis for a moment and read the Wisdom literature of the Bible: Job and Psalms and Ecclesiastes and Proverbs, the Scriptures seem to emphasize more our lack of knowledge about the details of creation, then any detailed programme of events...)  On the contrary, the ancient Jews and Christians knew God, by personal acquaintance as it were, and therefore knew him to be creative and powerful, mighty in word and deed.  Thus they could take him at his word that he is the Creator of all that we see.
The glory of Creation does indeed point to the glory of the Creator, so that it is possible for ordinary human reasoners to come to know that there is a Creator intellectually.  But this sort of Theism, by itself, isn't what Christians mean by faith.  Once we come to know God personally, we learn the more important fact that we can trust him, and know with confidence that there is nothing in existence which does not depend on him.
And therefore, although we see in this world visible things emerging from other visible, material things, we know that ultimately their origin comes from "God's invisible qualities—his eternal power and divine nature" (Rom 1:20).  He created everything through his Word, Jesus Christ, from whom we have come to know what God is like.  This way of knowing does not seem to depend very strongly on the details of past, present, or future scientific knowledge.
One could definitely argue that the Bible teaches that there was a Beginning (whatever this means from God's perspective).  For example, the quotation above from Hebrews speaks of the formation of the visible universe.  But whether or not this fact has been revealed by God, it is not obvious to me that the most important theological aspects of Creation really depend essentially on time being finite, or even well-defined.  (Admittedly, if you believe that time is infinite, it might be easier to slip into a false notion whereby matter exists independently of God, who is merely the Chief Organizer of the cosmos.  That would be a heresy—a false belief which may seriously obstruct your ability to relate to God or others properly—but it does not follow necessarily from time being infinite.)
The main point of the doctrine of Creation, I think, is that God is real, and that everything else is derived from his power and will.  We know this doctrine is true because we know God.  Not because of the Big Bang, as natural as it is to connect the two ideas.