Strictly speaking, most of the other rules about QM are already implicit in what I've already said.  But a few implications of this setup are worth pointing out.
First note that, in QM, the "state" includes information about every single object in the system.  So, when you add up the different histories, they only interfere if the final states are exactly the same in every respect.  If even one tiny particle is in a different place than it otherwise would be, then they don't interfere.  In that case, you just add up the probabilities normally.
This is why measurement is such a significant thing in QM.  If you try to catch out Nature by explicitly measuring which slit the particle went through, then YOU are now different as a result of you knowing which slit it went through.  As a result, the two histories don't interfere.  But it needn't be a person which does the "measurement".  Even if you refuse to look at it, the detector being different still prevents the interference from happening.  As far as we know experimentally, there is no special relationship between consciousness and QM (although some people have proposed interpretations of QM in which there is a connection between the two.).
Usually, once histories become sufficiently different from each other, for a long enough period of time, their random interactions with the environment will tend to be different, so that the chances of getting everything perfectly the same become tiny, and the histories won't interfere anymore.  This phenomenon is called decoherence.  People argue about what this tells us about the interpretation of QM, but the phenomenon itself can be studied in the laboratory, so my use of this word should not be regarded as an endorsement of any particular interpretation.
Secondly, if you have two or more distinct states, then it's possible to take a quantum superposition of the two states, formed by adding them up with complex coefficients.  For example, if X and Y are two distinct states, then

or

or

are all equally valid states!  (The reason for the square root in the denominator, is to make it so that, by the
Born Rule
, the total probability of the state is still 1.)  These states are just as much valid states as
X
or
Y
themselves would be.
The possibility of quantum superpositions is implicit in the quantum probability rules, since if you start with a particular state A, in general it will evolve to a superposition of different states as time passes.  And there's no particularly good reason you couldn't also have started out the experiment with a quantum superposition.
(Note that if we take any state like

, and we multiply it by a phase (a number on the unit circle of complex numbers, e.g.

, or

, or

) then we can't tell the difference between that and the original state in any way!  That's because, when we work out the patterns of interference, we only care about the relative phases between different histories, not the absolute phase of the whole system.  So it's good to remember that there is a slight redundancy in our description here: two states that differ by a phase are really the same state.)
Now if we have a system with N possible states, then we can imagine a higher dimensional geometry consisting of all possible superpositions of these N possible states (including, for mathematical convenience, those for which the probability doesn't add to 1).  This is called the Hilbert Space of that system.  It is a kind of vector space with N complex dimensions, which means in terms of real numbers it's a 2N-dimensional space.  But don't worry about these details for the moment.
(It's kind of hard to visualize a Hilbert space when N is greater than about 2, but it's still very useful mathematically!)
The simplest nontrivial Hilbert Space is the one with N = 2 states.  (I'll give a physical example in a moment.)  This would normally involve a 4-dimensional space, but to keep things as simple as possible, I give you permission to ignore the bit about complex numbers and just think about a 2-dimensional plane.  (This is the space of all states of the form

where

and

are now real numbers.)  Then we can think of
X
as a unit vector pointing along the x-axis, and 
Y
as a unit vector pointing along the (wait for it...) y-axis.
Perhaps a picture will help: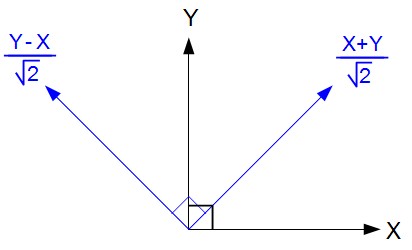 The Hilbert space for a system with 2 states.

As you can see, the Hilbert space has an origin, which is the point in the middle which represents "zero".  Each state is a represented by a vector coming out of the origin, pointing in some direction.  (But remember that

is really the same state as

, since they differ by a -1 phase.  I didn't draw

on the picture, but if I had it would be 180º around from

.)  The Born Rule tells us that length = total probability squared.  That means that in order for a vector to be a state-in-good-standing, it needs to be length 1.  (In other words, by the Pythagorean Theorem, the sum of the squares of its

coordinates needs to add up to 1).  So don't ask me what the physical meaning of the "zero" vector is, since it doesn't have one.
A physical example of an

state system would be the polarization of a photon coming straight at you from your computer screen.  Light can be either horizontally polarized (the X state, corresponding to an electric field that points in the

direction) or it can be vertically polarized (the Y state, corresponding to an electric field that points in the

direction).  Now since physics is rotationally symmetric, it's obvious that if light can be horizontal or vertical, it can also be diagonal.  So you might have naïvely thought the photon would have infinitely many possible states.  And in a sense this is true, but each of these diagonal states is really just a quantum superposition of the X and Y states.
Yet on a plane, the choice of axes is arbitrary.  You can rotate the coordinate system by 45º, and it would be just as good as the original coordinate axis.  In the same way, we are currently thinking of X and Y as the two possible states of the system (with every other state being a superposition of X and Y)—but this is an arbitrary choice!  We could just as well say that every state is a superposition of

and

!  So actually every state is a quantum superposition, of certain other states.
Although the choice of coordinate axis is arbitrary, it is important that the states you pick are all "orthogonal" to each other (i.e. at right angles in the Hilbert space).  That is what tells you that it represents a set of  mutually exclusive possibilities.  Any such set of N orthogonal states is called a basis of the Hilbert space.  (The plural of "basis" is "bases", pronounced BASE-EES.  Just like the plural of "index" is "indices".)  A basis gives the possible set of outcomes for some particular way to measure the system.
For example, suppose we start with a diagonal photon in the

state, and we measure it to see whether it is horizontally or vertically polarized.  (Maybe by passing it through some kind of material in which these two polarizations follow different trajectories.)  What happens?
Well, people disagree about interpretation (what is ultimately going on), but everyone agrees on the practical set of rules you'd use in the laboratory.  We just look at the state

.  It has an amplitude of

to be

, and also

to be

.  By the Born Rule, we've got to square these numbers, so we get a 1/2 chance for it to be horizontal, and a 1/2 chance for it to be vertical.
Let's suppose it turns out to be vertical (the Y state).  Then from now on, the particle behaves just as if it had been in the Y state all along.  (This is called "projection" or sometimes "collapse of the wavefunction"; but see my remarks on decoherence earlier in this post.)  For example, if we measure it a second time to see if it is in the Y state.  If we check to see whether it is in the X state, it is definitely not.
But now we can ask a separate question: is it in the

state, or the

state?  This corresponds to sending it through a different kind of filter, which discriminates between the two 45° diagonal polarization choices.  We would then find a 1/2 chance of it being the former, and a 1/2 chance of it being the latter.
Supposing it turns out to be

, this is a bit paradoxical.  Since if we had just started off asking whether the

photon was in the

state, Nature's answer would have been "Nope.  Definitely not.  Those states are orthogonal and therefore if it's the one, it's not the other!"
But somehow, merely by answering a series of questions about the photon's polarization, we managed to trick Nature into converting the photon from its original polarization to one 90° away, which is inconsistent with the first.  By measuring the photon we have affected it!
So we see that, somehow, we can get the photon to be definitely - or | polarized, or definitely / or \ polarized.  But we can't get both of these things to be definite simultaneously.  This is an uncertainty relationship.  It's analogous to the "Heisenberg uncertainty principle" where you can't measure position and momentum at the same time; so that measuring one makes the other uncertain.  (Although it's not exactly the same, since position and momentum are continuous variables, while each polarization choice is a yes-no question.)
In the case we are considering, we're been lucky that the Hilbert space is directly related to two dimensions of the physical space.  That means that the rotation of axes in the Hilbert space is the same thing as a rotation of physical space.  In general, however, we are not so lucky and the Hilbert space is more abstract.  But it is still true that there are a bunch of different possible bases of the Hilbert space, that are related by rotations in the Hilbert space.  (Since the Hilbert space is complex, we are really only interested in those rotations that don't mess with the notion of "multiplying-by-

".  These are called unitary transformations.)
As long as I'm talking about complex numbers, I should mention that there's also such a thing as circularly polarized photons, which involve complex superpositions like

.  But most of the bizarreness of superpositions can be illustrated without thinking about complex numbers.